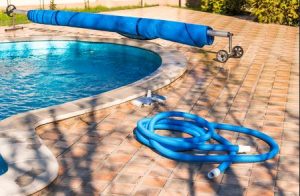 Are you ready to start using your pool this spring and summer? Before you do, you're going to need to take the cover off it and get your pool prepared for swimming season. The more preparations you do at the beginning of the season, the less maintenance you'll have to do on your pool later. It'll give you more than enough time to enjoy it throughout the season. Check out some tips for opening your pool below.
Take your pool cover off, wash it and dry it, and then place it into storage.
The first thing you'll want to do when opening your pool is take the cover off it. Over the winter, there was probably leaves, dirt, and other debris on it, so it'll likely be very dirty. You should wash it to remove any stains and then allow for it to air dry before putting it into storage for the season. This will prevent mold and mildew from building up on it.
Work on getting your water clear ASAP.
If you closed your pool properly at the end of last season, your water should be in decent shape when you open it. However, you'll likely want to add shock and algaecide to the pool right away to get the water completely clean and clear. You'll also want to turn your pump on and use the highest speed setting to get your water circulating. This should clear up your pool within just a day or so.
Test the water in your pool.
Your water might start to look clear after your pump is running for about 24 hours, but is it really clean and ready for swimming? You'll want to test your pool water before anyone starts using the pool. This will let you know if your water is balanced and ready to use. You should also keep a close eye on your filter over the first 24 hours to make sure it's filtering out any debris that might be in the pool. You might have to clean the filter out a few times as it works to remove leaves and other gunk that found their way into your pool as you opened it.
Need help opening your pool this season? Charlie's Pool Service is here to help. We can send an experienced technician to open your cool, check your water levels, and handle any other routine maintenance. Call us at 214-704-6391 today to schedule a pool opening.