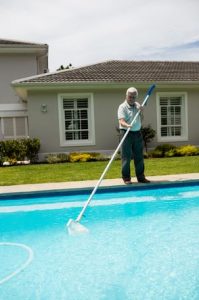 Swimming pools provide a great opportunity for relaxation or fitness. There is nothing quite like being able to jump into your own pool on a hot day or to host a pool party for friends or family. In order to be sure your pool is a safe and fun place, it is essential that it is properly maintained. These are some of the benefits of weekly pool maintenance.
A sparkling pool is an inviting sight on a hot day, but pools that are not maintained frequently may be cloudy or dirty. Weekly pool maintenance helps to keep your pool looking attractive and inviting.
Safety is always a concern with pools, but it goes beyond injury risks like slips or drowning. Pools or spas that are not maintained properly may become breeding areas for harmful microorganisms like those responsible for Legionnaires' disease. Improperly balanced pool chemicals can also cause illness or injury due to chemical irritation, including eye, nose, or throat problems, and even chemical burns. Professional pool maintenance can help to avoid these problems.
Weekly pool maintenance can also save money by preventing expensive repairs in the future. Pool professionals are able to help you identify problems and their cause quickly to avoid unnecessary expenses. Properly maintaining the water in your pool also helps to avoid expensive corrosion damage to components like the pump.
Maintaining a pool takes a lot of time and effort. This may be time that you would prefer to spend enjoying the pool. A professional pool service frees you from the mundane maintenance tasks associated with a pool so you can instead spend your time relaxing and enjoying it.
Charlie's Pool Service has been serving the Lewisville and Flower Mound area since 1984. We are able to install, repair, and maintain all types of pools. Contact us today at 214-704-6391 to learn how we can help with your pool maintenance.