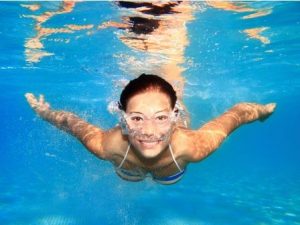 Is there anything better than swimming on a hot summer day? If you live anywhere with warm summer months, then you know there is nothing that beats doing a cannonball into the deep end of the pool to beat the heat. However, although pools are fun, they can also provide great health benefits.
Take a look at how swimming can help your body and mind stay sharp.
Swimming is Healthy for Your Body
They say that swimming is one of the healthiest activities that you can do. It has been proven that the act of swimming can actually build your endurance, improve your cardiovascular fitness and contribute to increased muscle strength.
If you are already in decent shape, swimming can help to keep you there, as it is ideal for toning muscles while also keeping your heart and lungs healthy for the long haul. When you swim, you are working just about muscle in your body creating the benefits that few other workout routines can provide.
Swimming can also be beneficial for those with old or existing injuries by providing a low-impact therapy for the parts of your body that ache. That dip in the pool has also been found to improve coordination, balance and posture.
Swimming is Healthy for Your Mind
It is not only your body that is reaping the benefits, as swimming can also work to keep your mind in tiptop shape. Studies have found that a daily swim can help to alleviate stress and because you are having fun while you are doing it, swimming provides one of the most peaceful forms of exercise that you can receive.
Keep Your Pool Going for the Long Haul
If you are already hip to the benefits of having a pool and you already own one then keep it in good working condition with the services offered by Charlie's. We offer pool maintenance, cleaning, tiling services and more. Contact us today to get your pool ready for the hottest summer months.